Air Antwerp Takes Off with the Fastest Direct Air Link between London City and Antwerp
Wide interest in new Belgian regional airline
9 September 2019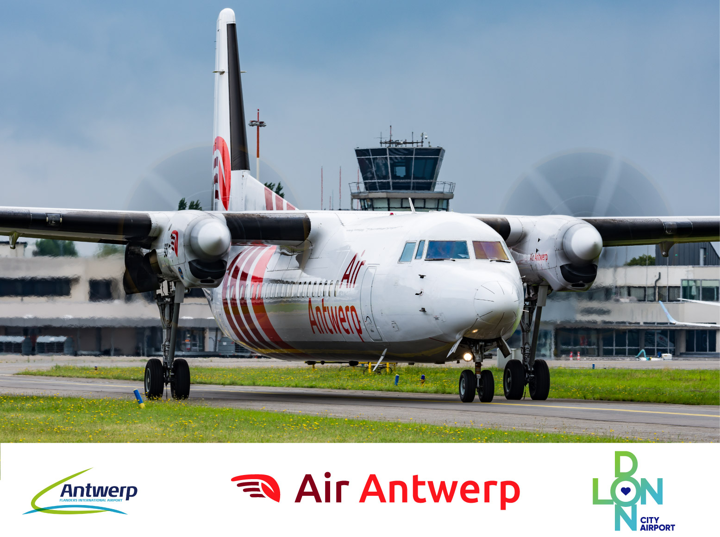 This afternoon, a ceremony was held at London City Airport to celebrate the official start of Air Antwerp 's flight operations. Johan Maertens, CEO Air Antwerp and Peter Downes, Aviation Director at London City Airport attended the ceremony. From today, the new regional airline will fly 16 times a week between Antwerp and London City Airport. The flights are operated using a 50 seat Fokker 50 turboprop. Air Antwerp and KLM signed a commercial partnership on this route in the form of a codeshare agreement. This has led to a lot of interest from the Netherlands for the new business route. Tickets for the Antwerp – London City route can be purchased via www.airantwerp.com and www.klm.com.
"In the past few months, a small team has worked extremely hard to obtain the Air Operator Certificate. Exactly one month ago - a bit faster than we had expected – our AOC landed in my mailbox", said Johan Maertens, CEO Air Antwerp. "Since then it has been all hands on deck to have commercial and operational details ready in time. I thank all our employees, suppliers and partners because of the hard work that they have accomplished. Also a sincere thank you to our shareholders, CityJet and KLM, for the confidence they gave us to make this venture possible. And last but not least, I want to thank our customers for the many enthusiastic responses and encouragements that we have received via email and social media. The important Antwerp – London City route is back and it generates a wide interest!"
Marcel Buelens, CEO at Antwerp Airport, added: "It took a while, but in the end we can add an extremely important business destination out of Antwerp Airport. This iconic route will appeal to many business men and women. At this point, we do not yet know for sure what the Brexit will bring exactly, but the fact is that trading and doing business with the United Kingdom will not diminish, quite the contrary. We expect that even more people will have to travel to the British capital in order to sort out certain matters and to make maximum use of the new opportunities that will present themselves. Antwerp Airport is ready and will fully capitalise on its advantages as an efficient regional airport and with an excellent on-time performance."
Peter Downes, Aviation Director at London City Airport, said: "Air Antwerp's new route, up to three times a day, enables quick and convenient travel between Belgium's second city and central London, reflecting London City Airport's role as a bridge between major European cities and the UK capital."
"The Antwerp – London City route has been a valued service over the years, so it's wonderful to see passengers return, aboard the recognisable Fokker 50 aircraft. Boosted by a codeshare agreement enabling passengers to book via KLM.com, we've already seen strong interest in bookings, to visit London or experience Antwerp, whether it's for a city break or to do business."
The Belgian regional startup is operating three return flights between Antwerp and London City on weekdays. On Sunday evenings one frequency is being offered.
Air Antwerp has been established in May 2019. This Antwerp-headquartered new regional airline is co-owned by the Irish regional CityJet (75 percent) and Dutch flag carrier KLM (25 percent).
www.airantwerp.com
Schedule - route Antwerp – London City Airport (all times local)
| | | | |
| --- | --- | --- | --- |
| Route | Departure | Arrival | Days * |
| Antwerp – London City Airport | 07:10 | 07:15 | 12345-- |
| Antwerp – London City Airport | 14:15 | 14:25 | 12345-- |
| Antwerp – London City Airport | 17:35 | 17:40 | 12345-7 |
| London City Airport – Antwerp | 07:45 | 09:45 | 12345-- |
| London City Airport – Antwerp | 14:55 | 16:55 | 12345-- |
| London City Airport – Antwerp | 18:10 | 20:10 | 12345-7 |
1 = Monday, 2 = Tuesday, 3 = Wednesday, 4 = Thursday, 5 = Friday, 6 = Saturday, 7 = Sunday
Note to the editor: copyright-free images can be downloaded via https://air-antwerp.force3.be/media

Yves PANNEELS
PR & Communication, Air Antwerp
Vanessa FLAMEZ
Marketing & Communication Manager, Antwerp Airport
Andrew SCOTT
Senior PR Manager, London City Airport