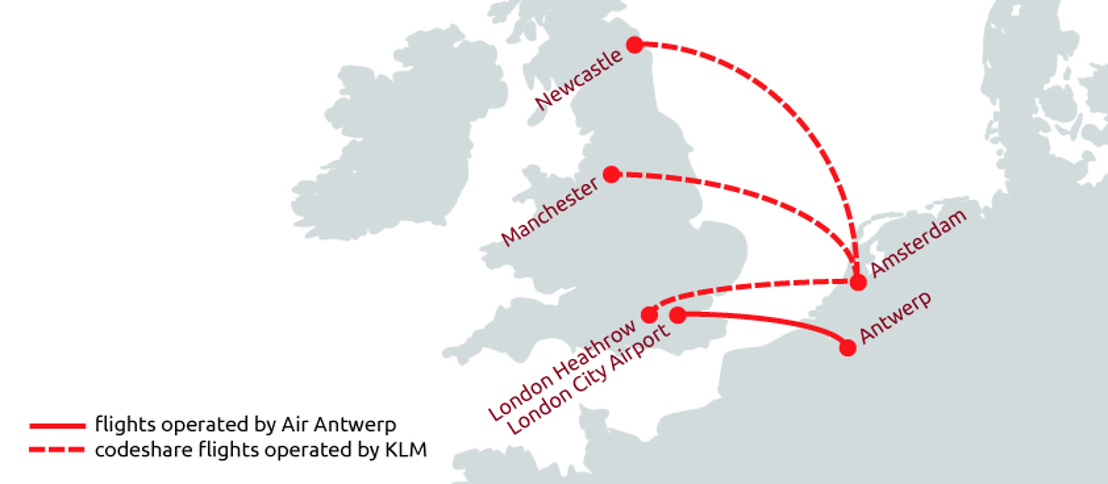 Air Antwerp and KLM enter into codeshare agreement on routes between Amsterdam and the UK
Saturday 26 October 2019 — Air Antwerp broadened its existing commercial partnership with KLM and concluded a codeshare agreement with the Dutch flag carrier on three routes between Amsterdam Schiphol Airport and the United Kingdom (namely London Heathrow, Manchester and Newcastle). The arrangement will enter into effect on 27th October 2019.
Johan Maertens, CEO of Air Antwerp, explained: "The Amsterdam-Heathrow, Amsterdam-Manchester and Amsterdam-Newcastle routes are flown by KLM. We will put our WP code on these flights and make them available for sale via our website. Thus, the codeshare agreement will allow Air Antwerp to broaden its revenue base without increasing its costs."
Tickets can be purchased via www.airantwerp.com.
Earlier this year, Air Antwerp and KLM have already concluded a codeshare agreement on the route Antwerp - London City. These flights are operated by Air Antwerp using a Fokker 50 turboprop.
Air Antwerp has been established in May 2019 and is co-owned by the Irish airline CityJet (75 percent) and KLM (25 percent). The Antwerp-based regional airline operates 16 weekly flights from Antwerp Airport to London City Airport.